St. Andrews calls loudly to golf faithful
By Tod Leonard  
STAFF WRITER
July 10, 2005
Dean Knuth's first golf pilgrimage to St. Andrews, Scotland, 25 years ago turned into something of a nightmare.
A lieutenant commander in the Navy, Knuth had coerced his young family to travel all day by car from north of London to Scotland's eastern coast so he could pay homage to the birthplace of golf.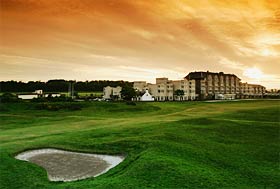 DAVID ALEXANDER / Getty Images
Those who do not love golf, and many of those who do, have found their first glimpse of the Old Course at St. Andrews to be somewhat less than inspiring.
The travel-weary group arrived in time for a late dinner at the Old Course Hotel, but Knuth's 2-year-old son, Greg, shattered a crystal glass, and the whole clan slinked out in utter embarrassment. They ended up at a Chinese restaurant.
After supper, they strolled through narrow streets to the edge of the centuries-old town, where the Old Course runs hard into the Royal & Ancient clubhouse and Old Tom Morris' golf shop. At first sight, Dean Knuth fell in love with the place. His bride was far less enamored.
"The irrigation at the time was nonexistent there," Knuth said. "My wife looks at me, looks at this brown golf course, and says, 'We came all the way here to see this?' "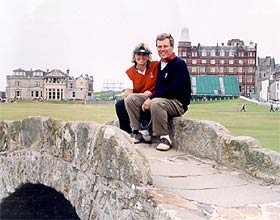 Photo courtesy Dean Knuth
Dean Knuth's first trip to St. Andrews was rocky as the Swilkin Bridge, but he and wife Suzanne are beaming now.
Funny, because the great Bobby Jones had a similarly sour first impression in 1921, but the place grew on him.
As for Knuth, the marriage didn't last, but his passion for St. Andrews has never wavered. The Bonita resident would become a high-ranking official in the U.S. Golf Association, and he made a rather triumphant return to St. Andrews 10 years ago when he became a member of the most prestigious golf body in the world, the Royal & Ancient Golf Club. For the past six years, Knuth has ventured every July to St. Andrews with his second wife, Suzanne Yavorsky, who shares his passion for golf. "It's the aura, the history, who's walked there," Knuth said. "It's knowing the history of the town. It's just an amazing experience – almost indescribable, really. I think anybody's who's been there has felt that."
And in St. Andrews, there is no week like the week it hosts the Open Championship, which it will do for a record 27th time when the golf season's third major begins on Thursday. The little town of 16,000 will swell to four times its size, the pubs and hotels packed with pilgrims.
How to play at St. Andrews
According to Dean Knuth, a San Diegan who is a member of the Royal & Ancient Golf Club, there are two good ways to get a tee time on the Old Course at St. Andrews and play for $219 per person (current exchange rate):
To book a time in the next calendar year, send a request with specific dates and number of players to the Links Trust on the first Wednesday in September. The e-mail address is reservations@standrews.org.uk. The Links Trust promises to reply within four weeks. If the date you requested is not available, it will offer an alternative date.
Half of the 44,000 rounds a year on the course are sold via lottery. Your group (maximum of four, minimum of two) can sign up in person or over the phone by 2 p.m. the day before you want to play. The winners and their tee times will be posted by 4 p.m. at various points around town and on the Internet. Singles can show up at the starter's hut and put their name on the list. Knuth said it shouldn't take more than two or three days to get on.
"It's just electric with golf," Knuth, 58, said. "Everybody in the town talks golf. Anybody who's not into golf in the town rents the house for an exorbitant number. For that week, it's just golf."
Even on the St. Andrews scale, this figures to be an extraordinary week. Tiger Woods returns as the Open's defending champion on the Old Course, where he carved his way around in 2000 for a record 19-under total, winning by eight strokes. It also will mark the major championship farewell of Jack Nicklaus, who won two Opens at St. Andrews and has called the Old Course his favorite layout in the world.
In an extraordinary move, the Royal & Ancient accelerated St. Andrews' turn in the Open rota so Nicklaus could play before his automatic entry as a champion runs out on his 66th birthday in January.
"I love St. Andrews – the way it feels and what it represents," Nicklaus told Golf Digest. "The way the galleries have accepted me. I always felt I was theirs."
The Home of Golf has felt like home to Americans for at least a century, and the history of the game in this country is tightly entwined with St. Andrews. It has been speculated that America's first golfer was James Wilson, a Scot who ordered his golf clubs and balls shipped from St. Andrews 33 years before he signed the Declaration of Independence.
It was Robert Tyre Jones who would ignite the Scots' admiration for the American player when he won the Open Championship in 1927 at St. Andrews. In the aftermath of his winning putt, Jones was perilously swept up in a dark sea of jubilant men dressed in suits and felt hats.
Three years later, Jones' status as legend was secured when he completed the second leg of his Grand Slam with an Old Course triumph in the British Amateur.
Since Jones, Sam Snead, Nicklaus, John Daly and Woods have hoisted the Claret Jug at St. Andrews, and every great American player, other than Ben Hogan, has competed there. Curtis Strange shot the first 62 on the Old Course in the 1987 Dunhill Cup.
For more mortal, weekend American golfers, St. Andrews is a mystical destination. Thousands of Yanks make their way to Scotland for golf each year, the playing of the Old Course as their primary motivation.
"There's not a hair on the back of your neck that doesn't stand up when you're on the first tee," said Lee Masterson, a part-time Coronado resident who originally hails from Houston.
Masterson, 66, a former Rice University golfer, became an R&A member 20 years ago while working in the oil business in Aberdeen.
"I've never taken anyone there whose mouth didn't fall open on the first tee," he said. "It's an outerworld experience. Just everything about the place is pure enjoyment for me."
Knuth said one of the happiest days of his life came when he received the letter accepting him into the R&A, the governing body for golf in every country but the U.S. and Mexico. At the autumn induction ceremony that year, Knuth enjoyed an evening of conversation with another American newcomer who identified himself only as "Chuck." Only later did Knuth learn it was Charles Schwab.
The American contingent in the R&A is comprised mostly of captains of industry and golf leaders. The other San Diegans are all from the golf equipment business: Cobra founder Tom Crow, Callaway's Richard Helmstetter and former Callaway and TaylorMade chief Chuck Yash.
Knuth is the former senior director of handicapping for the USGA, where he created the now-universal slope rating system.
R&A membership has its privileges, including free rounds, for a nominal yearly fee, on any of the six St. Andrews Links Trust courses. Knuth has played 42 rounds on the Old Course, shooting a personal best of 73 last year.
"It's a course you can score on," Knuth said. "Keep your drives left, that's all you have to do. You have to bump and run it, too. If you fly it to the green like we do here in America, you're going to be off the green most of the time."
Golfers who aren't accustomed to a gallery should beware. Knuth said hundreds of locals mill about the first tee and 18th green each day to size up the skills of visitors.
"They let you know," he said. "If you hit a good shot, they applaud. If you hit a bad shot or miss a putt you should have made, there's a lot of murmuring."
Of course, St. Andrews wouldn't be what it is without its famously named hazards, like Hell Bunker, the Road Hole Bunker and the Principal's Nose. "My wife got into Hell Bunker and after about four or five tries she threw the ball out with her hand," Knuth recalled, laughing. "The caddie said, 'Ah, the ol' hand mashie!' "
Knuth is a fervent advocate for preserving St. Andrews' traditions. He promotes the "true" Scottish caddies on his own Web site – "Who would want to go to St. Andrews and have an American caddie?" – and he recently co-authored a controversial story for Golf Digest detailing the "scalping" of wealthy golfers by a private company that charges $3,500 for the "Old Course Experience" package. Knuth determined golfers were paying $1,800 for their single round.
The R&A didn't like the bad publicity, but Knuth would have to commit a far more grievous crime to get booted out. He's been told that in the 251-year history of the club, only one man has been ousted.
One more thing to love about St. Andrews.
"The Old Course is a world treasure," Knuth said. "It's a public course, owned by the town. It ought to be open to anybody."