Best caddies at the Old Course, St. Andr
ews (Updated July, 2011)
Your experience at the Old Course in St. Andrews is greatly enhanced if you have an outstanding caddie. It takes years and years of experience for a caddie to understand the nuances of this course and to learn to accurately club players and to read the greens. The best caddies can possibly take ten shots off your game with target strategies, reads and club selection. The caddie pavilion near the first tee is where caddies collect and are dispatched by the caddie master. Robert (Rob) Thorpe, Caddie Master, is a nice young-man who obviously is proud of his job. Rob came out to greet me before I played my last day on the Old Course (2011) and assured me that there are 150 qualified caddies who can help make the experience more enjoyable. Sign-up to get a caddie as far in advance as you can. They sometimes go fast, although many will make two loops in a day.
Rob also said that if a player knows a particular caddie and requests him, he will honor that request. To me, it is essential to have not only an experienced caddie, but one who is a local Scottish caddie. For over ten years straight I have had Willie Stewart on my bag. Before that we had Dave Hutchinson who has been there for over 30 years and his grandfather was a St. Andrews caddie. Dave was promoted by the Links Trust to be Caddie Master at the Castle Course, so isn't available to caddie anymore.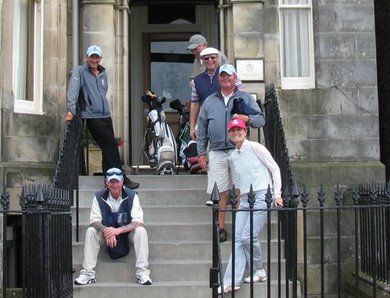 Willie Stewart is upper-left in the picture. Below him is Steve Martin and Malcolm Dewar is above the woman, all wearing their powder blue caddie hats.
I have met many of the longtime caddies over the years and my assessment and that of others is that Jimmy Reid is the best caddie that they have.
Jimmie Reid
Jimmy is quiet, but you can believe any advice that he gives you and he will save you strokes.
The top local Scottish caddies that I know are outstanding on the Old Course are:
Jimmie Reid, Willie Stewart, Steve Martin, Malcolm Dewar, Brian Martin, Ian Webster, Davie McGavin, Nickie Finley, Jimmie King and David Coyne.
All of them have caddied for famous golf professionals or famous people like Bill Clinton. The stories that they have about their experiences are delightful.
If you get one of these caddies give them a big tip. The minimum pay for a St. Andrews caddie is 45 pounds plus tip. The tip for a good caddie is at least 20 pounds—65 total. They give 5 pounds back to the Links Trust. The top caddies listed above typically get 80 to 100 pounds for a round and they deserve it. Some delighted foreign tourists have paid them 150 pounds.
Here are a few contact numbers for the best caddies. Jimmie Reid 01334 470495, Willie Stewart 01334 474496, Steve Martin 0787 9253236, Malcolm Dewar 0784 5825273.

St. Andrews Finest Caddies