SIFTING OUT SANDBAGGERS: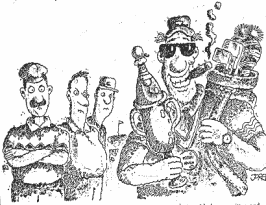 THE PRO'S ROLE
A strong tournament program requires fair handicaps. Here's what you can do to help
By MIKE CORCORAN
Associate Editor
Golf's biggest frustration is not the missed two-footer, the terminal slice or mandatory golf car rental. The most frustrating thing in golf is standing on the first tee and knowing you have absolutely no chance of winning your match, because your opponent is a sandba– no, check that, a cheater.
When a member at your club is on the wrong side of one of these matches, you can bet the clubhouse that you've going to hear about it personally. At this time of year, when tournaments are many and the competitive juices of even the worst golfer are beginning to flow, the problem of padded handicaps is most volatile. What do you do?
According to informal research, there are ways for the professional to get involved, mostly from an advisory standpoint.
If your members see their club as having a sandbagging problem, and they want you to get involved in a reorganization of the Handicap Committee, two separate paths of action should appear. The first involves your activities with the committee, and the second covers what the Committee can do on its own.
The United States Golf Association's (USGA) guidelines for setting up a Handicap Committee allow for an employee of a club, i.e., the pro or an assistant, to be a member of the committee. However, the employee may not head the committee. If your members want you to participate, remind them of this provision. It will insulate you from backlash, and make the committee stronger. Why? Because a strong peer review element is the essence of handicap fairness. Also, since it's against USGA requirement for you to head the committee, the USGA will not endorse the club's handicaps if you do so. Whatever happens, avoid situation in which you have to confront a member.
A "Sandbagger" is one who intentionally establishes an inaccurate handicap that will work to his advantage. There are people who try to establish lower handicaps than they deserve, but for the purposes of this story, we'll just consider them fools, not sandbaggers. The way a person establishes a falsely high handicap is "by selectively posting scores, or posting some higher than they've actually shot," says USGA Director of Handicapping Dean Knuth.
It would seem, then, that the key to establishing accurate handicaps for all is effective enforcement of the score-posting guidelines described in Part II. Section 3 of the USGA Handicap System and Golf Committee Manual. After that, the rest of the system is in place and even more effective since the successful conversion of handicapping to the Slope system.
What suggestions can you make to your Handicap Commit tee to improve on the number and accuracy of scores posted? You could do no better than to recommend to your committee some of the measures devised by Clifton Bogardus, former handicap chairman at Southward Ho C.C. in Bayshore, N.Y.
Bogardus was iron-handed in his role. and was incredibly successful at getting people to turn in scores. Exactly how successful? In l 986, the year before Bogardus took over the handicap post. there were 5.997 rounds posted at Southward Ho. Of these, 5,917 were home scores. and only 80 were away scores. The following year 8,503 scores were posted, with 7,398 home scores and 1,lO5 away scores. That's an increase of 42 percent overall, with a huge, 14fold jump in away scores.
It should be noted that Bogardus didn't take on the job because he felt a dire need to right wrongs, or that Southward Ho was some sort of sanctuary for sandbaggers. They just needed a handicap chairman.
"I wasn't very enthused when the members approached me," says Bogardus. "But I'd been a member since l 965 and felt I owed something to the club."
Bogardus served brilliantly, but briefly. He stepped down at the end of last year because, "it got to be where I was like a doctor who thinks the world is full of sick people," he admits.
"The biggest problem we faced was educating the members as to what the committee was trying to accomplish, and what was expected from them." To that end, Bogardus's committee, excerpted portions of the USGA Handicap System and enlarged them, then posted them on the bulletin board. "The damned print in that USGA manual is so small, half the members had trouble reading it, so they wouldn't bother." Some other key points in Bogardus's program:
Shared responsibility for tracking play and making sum that all scores and posted. Along with the committee's responsibilities, there are assignments for the golf shop staff, the office staff and the Locker room attendants.
Specifically, the shop staff was responsible for marking down every time a player went out on the course. Separate sheets were kept for men and women. and every time a player got his clubs it was written down. An extension of this included the staff alerting the committee whenever a player removed his clubs from the premises, which gave the committee leads on away play.
At the end of each day, shop personnel collected all scorecards and a committee person checked to see if there was a card for each listing on the starting sheet.
The committee devised a system of warnings whereby a notice would be posted in a player's locker detailing any infractions, such as not signing and dating a scorecard, posting an incorrect score. not employing Equitable Stroke Control, etc.
The weekly posting of infractions listed players by name, described the infraction and reported whether the player had a penalty score posted, received a warning or had his handicap revised by the committee.
There was also an occasional posting of what Bogardus calls "just factual information."
An example was a sheet detailing cumulative tournament results over a three-year period. During that period there were 198 first or second spots available in tournaments. Of these, 82 were won by l 9 individuals. After posting those names, and the number of times each had won or placed, there was a "noticeable drop-off involving the two leading winners" over that time.
"Ninety percent of what we did was strictly clerical work." said Bogardus. But it was very effective. "There was only one player who received more than three warnings. It made people conscious of what was going on, and the posting on the bulletin boards resulted in some fun needling by other members, which is effective in its own sort of way."
As the pro, having members applying pressure on each other is exactly what you want to see. Peer pressure is better than pro pressure every time.
Another tack you might suggest to the members of your handicap committee is the one, devised by the handicap chairman at Woodland Hills C.C. in Woodland Hills, Calif., when Dan Desmond was the head pro there.
"We had an image problem regarding handicap accuracy that stemmed from our narrow course, recalls Desmond," now an executive with Club Corporation of America (CCA). "Our members would play better than their handicaps when they went to other clubs."
"One year, a retired accountant took over the handicap committee and instituted numbered scorecards. If your name was on the tee sheet and you didn't turn in a numbered card, you automatically round. He received some criticism, which he handled well," Desmond comments. "Actually, he wore a hearing aid, and when someone would start giving him a hard time, he'd just turn it off."
There is, of course, a general unpleasantness and unwillingness that goes with calling a fellow member's integrity into question, especially in the gossipy, small society of the private club.
Interestingly, Knuth believes that handicap associations formed at public courses ("associate clubs" in USGA parlance) have more accurate handicapping because "the peer review is much stronger. Public links players are not as worried about insulting someone. They'll take action."
Bogardus says the way to a clear conscience regarding this is buried in Section 8-3d of the USGA Handicap System, which reads: "It is equitable, provided the failure of a player to return a low score is occasional or inadvertent, to enter a differential equal to the lowest of the differentials used to compute his last handicap."
Desmond thinks the issue is a dicey one. "Fifteen years ago, I was more direct. I would have one-on-one talks with people whose handicaps didn't reflect their abilities. These days, people are so lawsuit-happy, a pro or even a committee member might just open the club up to legal action for defamation of character."
Knuth points out, however, that there is no reason for a club to fear legal recourse if they lower a member's handicap, thanks to a court precedent. In 1986, a gentleman in Montana named Kirk Johnson took his club, Green Meadow C.C., to court when they lowered his handicap (under Section 8-3d) because they believed he did not post his low scores. The case made it to the Montana State Supreme Court, which decided that the club "not only had the right, but the responsibility under the USGA Handicap System to do so."
One final point concerns the word itself: "sandbagger." Those in the handicap enforcement business refrain from using a stronger word, "cheater," because it carries heavy implications and goes against the gentlemanly spirit of the game.
On the other hand, the very term sandbagger may be part of the problem. It's a cutesy word that covers up the nature of the crime. We might be better off calling a spade a spade, meaning that anyone who intentionally establishes a falsely high handicap is a cheater, no more or less than the golfer who mismarks his ball on the green or foot-wedges it in the rough.