WHAT REALLY HAPPENED
Pebble Beach settles the score
One day last February, a man named Dean L. Knuth was thumbing through Golf World magazine, when he came across the results from the 1995 AT&T Pebble Beach Pro-Am. The tournament was won by Peter Jacobsen, while the team competition was won by Bruce Vaughan, a fire fighter turned touring pro, and his partner, Masashi Yamada.
Knuth is the senior director of handicapping for the U.S. Golf Association. Little pleases him more than to see the handicapping system work equitably and without hitch. But when he compared Vaughan's raw scores with the team's better-ball scores, a little red flag in Knuth's math-minded head went up.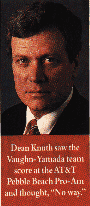 Vaughan shot rounds of 71, 75 and 79, in soft and easy conditions, and he missed the 54-hole cut by 10 strokes. But in the better-ball pro-am competition, Vaughan and Yamada shot rounds of 63, 65 and 64, making the cut easily. Then, in the finale, they shot an extraordinary better-ball 59 for 251, winning the event, golf's most visible and celebrated pro-am title – by three strokes. It's one thing for an amateur to be helpful to the team. It's another thing for him to play about as a well as his pro.
Worried there might be a handicap mistake, Knuth called the AT&T tournament office and was told Yamada's handicap was 15. Knuth thought: No way.
"It looked like he had helped the team 45 shots over four rounds," Knuth said later. "I was concerned about compliance with the USGA handicap system rules. Given their better-ball scores, there was about a zero percent chance Yamada was a 15." Knuth knew that to turn Vaughan's third-round 79 into a better-ball 64, for instance, Yamada would have had to shoot about 79 on his own ball. A 15-handicapper is not likely to shoot 79 even once in 1,000 rounds. But Yamada did it for four consecutive days. This is what the statisticians call "statistically impossible."
On Feb. 13, Knuth sent a letter to the Japan Golf Association, asking for a confirmation of Yamada's handicap. On March 9, Knuth received a fax back from Ayako Kato, secretary general of the Japan Golf Association, acknowledging that Knuth's letter led them to "a thorough investigation with grave concern, and the following came to light: Firstly, the handicap index of Mr. Yamada for the AT&T Pro-Am was issued by the Mangijo Country Club. . . Secondly, the Mangijo Country Club issuing the certificate under the name of the Japan Golf Association was merely a mistake, since the club cannot use our name for their club handicap ... the handicap committee of the Japan Golf Association is now considering some measures of sanction against the club and Mr. Yamada."
In the following days, Knuth and AT&T tournament officials learned that Yamada's handicap at his other clubs was 6, except at one club, where he played to 4. They learned that Yamada owns the Mangijo Country Club, in Chiba, Japan, meaning that the pro who signed his handicap certificate was one of his employees. They learned that, at age 72, Yamada was one of the leading senior amateurs in Japan.
They did not learn much about who Yamada is. Neither Yamada, nor two of his American deputies, responded to calls for this article.
But some basic facts are known. Masashi Yamada is an extremely successful real-estate entrepreneur with worldwide golf interests. He is the head of a group that owns, among other things, the well-regarded public course in Santa Barbara, Calif., called Sandpiper.
Yamada is a fit and relatively tall man with a short, straight golf game and a bag filled with high-tech clubs. He wears his years youthfully, dresses expensively and travels frequently, always first class and usually with an interpreter, although he is not a chatty man. He has ties to the Japanese company that purchased the Pebble Beach Golf Links in 1992. Because of that relationship, and because he is a serious golfer, Yamada received an invitation to play in the 1994 AT8cT Pro-Am. When he played then as a 15-handicapper and failed to make the 54-hole cut, he was invited to play again in 1995.
There have been handicapping problems with the world's most famous pro-am before – although only rarely in the old days when Bing Crosby ran the event, assigning strokes as he saw fit. Crosby died in 1977, and after AT&T became the tournament's title sponsor in 1986, the event, while becoming a more significant money-raiser for charity, became more complex.
Increasingly, playing in the tournament has become a significant notch in the belt of corporate America. Success in the tournament raises one's status even more. Winning the event gives the momentary illusion of having achieved athletic celebrity. That's why there are many more people willing to pay $3,500 to play in the tournament than there are available spots.
Amateur players are asked to furnish their USGA indexes to tournament officials, and these handicaps are checked by volunteers but not scrutinized. Yamada's handicap was listed on his application, then verified through the pro, by mail, at the Mangijo Country Club. There were no known complaints about his handicap until his winning score was posted. Then they came quickly.
Of course, there's nothing unusual with a winner being charged with sandbagging – not in local club competitions and not at Pebble Beach in the AT&T Pro-Am, either. Officials say the hardest to handicap are athletes, because they are accustomed to competition and often have golf games that can improve dramatically with a week of intense play and practice.
This was the excuse given by nonathlete Dean Spanos of Stockton, Calif:, (the son of Alex Spanos, owner of the San Diego Chargers football team) when he won the Crosby for the second time in 1990, the same year he won the pro-am portion of the Bob Hope Desert Classic. There were mutterings and complaints, but Spanos maintained that his 11-handicap was genuine and that he had just practiced a lot. Spanos kept his title but has not been invited back.
Many people called baseball star George Brett a sandbagger after he won with Fred Couples in 1987. After 1988, Brett decided not to play in the tournament anymore, even though the charges were unsubstantiated. When quarterback Dan Marino won the event in 1988 with Don Pohl, there was whispering about an inflated handicap, but tournament officials determined the carping was unfounded.
The AT&T tournament people knew the case of Masashi Yamada had to be handled quickly. On March 29, Lou Russo, the tournament's executive director, sent Yamada a fax, asking him to explain the discrepancy in his handicaps. Yamada wrote back two days later, saying he is a 15 at Mangijo, and nobody complained when he played as a 15 and failed to make the cut.
Quickly, by telephone conference call, a meeting of the board of directors of the AT&T Pebble Beach Golf Foundation was conducted. Chaired by Clint Eastwood, the board includes Peter Ueberroth, the former baseball commissioner, and Crosby's sons Harry and Nathaniel. The vote was unanimous. "We have no alternative," the board wrote in an April 3 letter to Yamada, "but to strip you of your title." Yamada never responded.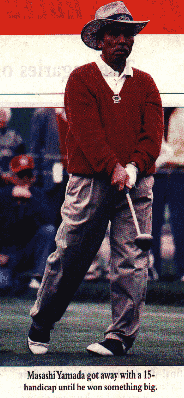 In Japan, the Japan Golf Association received a letter of apology from Yamada and a promise from the Mangijo Country Club that they would adopt standard handicapping procedures.
In the U.S., the runners-up, tour pro David Duval, who finished second behind Jacobsen in the professional competition, and his partner, Duval's agent, Hughes Norton of the International Management Group, were named the winners. Bruce Vaughan, the pro who played with Yamada, was allowed to keep his $7,000 prize money, since he was found to be not culpable in the cheating.
There was scant mention of the incident in Japanese newspapers and golf magazines. As a result, said an American who works in golf in Japan, the incident had little personal effect on Yamada.
One Japanese golf magazine mentioned the incident, while observing the national custom of referring to a controversial figure without his family name and writing the following: "This man's character, however, is already well known and often is the target of rumors. . . He is a top-ranking senior amateur player. He is also a full-fledged single-digit-handicap player. . . He does, however, seem to have a ground for claiming a 15handicap at Pebble Beach. His handicap at M golf course, which he owns, is 15. But it is quite natural for American golf magazines to refer to his behavior as un-gentlemanly behavior as a golfer for reporting his highest handicap on purpose... 'For the American officials to take issue with his handicap only when he won the tournament is too one-sided,' said someone close to Mr. Y."
Reaction in the United States was less guarded. "This comes pretty close to being a desecration," said Sandy Tatum, the former USGA president who won the event in 1961. "I'm only glad Bing didn't have to deal with it."
Russo said the tournament would become more diligent about double-checking the accuracy of handicaps submitted. But the tournament still requires, as the game of golf demands, honesty on the part of its participants. If their handicaps are revealed to be inflated, players will not be invited back. "That's the biggest hammer the tournament has," said J.B. McIntosh, a director of the AT&T Pebble Beach Golf Foundation.
Asked if Yamada would ever be invited to play in the tournament again, McIntosh could not have been plainer. "Absolutely not," he said.
– MICHAEL BAMBERGER