What's this? Golfers are taking to the Slope
By Joe Juliano Inquirer Staff Writcr

No sport tries as hard as golf to give its players a chance to compete equitably.
You don't see the San Diego Padres get three runs before they suit up for a game against the St. Louis Cardinals. You don't see the Los Angeles Clippers get 20 points put next to their name on the scoreboard before taking the court to play the Boston Celtics. And you don't see Mike Tyson try to fight a corner bum masquerading as a pro by tying one hand behind his back.
OK, Jack Nicklaus doesn't have to play in the Masters with one club. But many golf events for recreational players use a handicap system intended to make the game fair for everyone, whether he or she is an expert or a hacker.
It's a simple concept, really: The less capable a player is, the more strokes that are deducted from his or her actual score. So, in theory, all players have a similar chance to win.
But that simple concept is the basis for a complicated format now used by the United States Golf Association to further enable golfers to get an equitable (if not equal) chance against opponents. The new format, known as the Slope System, attempts to assign a more accurate handicap to golfers at specific courses by considering more factors about the courses. Under the Slope System, a golfer's handicap is likely to vary, depending on the course being played.
For years, there has been no way to adjust handicaps from one course to another. A 15-handicap player at easy 'Course A would frequently lose to a 15-handicapper from harder Course B when playing at the B layout.
In the early 1970s, the USGA instituted the course rating system to be used in establishing handicaps. The system evaluated the playing difficulty of courses, but based course ratings almost solely on their length and used even-par golf as its standard of measurement.
But fear no more, bogey golfers of America. On Jan. 1, the Slope System, became the official USGA method for handicapping for most of the 3.5 million U.S. players who receive handicaps from their regular clubs or courses. It is based on such detailed computerization that many club professionals and USGA executives are as impressed with its fairness as they are confused by how it works.
Expressed simply, the Slope System is the rating of a course according to its relative difficulty for all levels of golfers. The rating is based on a mathematical formula derived from plotting the scores of golfers of varying handicaps on courses of varying difficulty.
In addition to yardage, the Slope System considers obstacles and hazards on the course, psychological factors related to playing it, and the fact that when an average player plays a difficult course, his score tends to rise more than the difference in courses shown by the old USGA course ratings. The system derives a Slope rating for each course – 113 is the average (although most Philadelphia area courses that have been rated are above that figure).
"Slope is the rate that the score goes up as the handicap increases," said Dean Knuth, the USGA's director of handicapping and the godfather of Slope. "On the average, the score goes up 1.13 strokes for an increased handicap of 1 stroke [under the former USGA system], and we moved the decimal point over two places to make it easier."
Under the Slope System, a golfer uses a course's Slope rating and his own handicap index to determine how many strokes he gets on any course. All he needs to do is refer to charts in a book available at courses rated for the Slope System.
Handicap index
For example, if a golfer with a 14.2 handicap index in the Slope System plays at Chester Valley Golf Club in Malvern, he will get 16 strokes. That's because his 14.2 handicap index is for a course with an average Slope rating (113) and Chester Valley has a higher rating (130).
"Of the approximately 9,000 U.S. courses that have been rated for Slope, Pine Valley Golf Club near Clementon, N J., owns the nation's highest Slope ratings from the middle (150) and back (153) tees. The East course at Merion Golf Club in Ardmore also rates in the top 10.
Some golfers call the Slope System an idea whose time was long over-due. Some golfers say it unnecessarily complicates what was basically a simple handicapping system. Some golfers aren't very nice about it.
Like it or not, about one-third of Pennsylvania's courses, including most of the private clubs, have been given Slope ratings and use them.
"Someone in Philadelphia said this was developed by some mad rocket scientist, and that nobody understands it," Knuth said, laughing.
Confusing
That's usually the reaction when someone is introduced to Slope. People react to it as if they were reading a road map written in five different languages, none of which is familiar.
"I didn't understand it," said James D. Sykes, executive director of the Golf Association of Philadelphia.
"It was very confusing," said Ted McKenzie, head pro at Waynesborough Country Club in Paoli.
"I thought it was a little too involved to understand," said Bill Kittleman, head pro at Merion.
Maybe so, but Knuth will be the first to tell you that it wasn't something that was discovered by pulling of numbers and formulas out of a hat.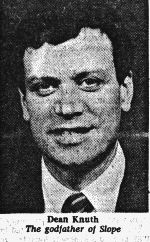 Dean Knuth sits in the official scorer's trailer at the U.S. Women's Open in Edison Township, N.J. He is directing a fleet of score-gatherers Scampering around a relatively cramped area and ordering changes for the leader board, while he explains all the research that went into the development of Slope. The topic first attracted his interest in 1975, when he was a master's candidate in mathematics at the Naval Post-Graduate school in Monterey, Calif. A self-descrlbed "golf nut," he started doing course rating research in conjunction with the Northern California Golf Association.
"The course rating system was a yardage system," he said. "To me, that seemed strange, because it basically didn't seem to matter what was on the golf course. We thought there must be a way to measure the impact of obstacles and put them into an equation."
"There were other factors. Our research found that the average player will score higher on the first and 18th holes compared with the other holes on the interior of a golf course. Psychologically, the golfer always wants to start well on No. 1, and make up for all his bad holes on No. 18."
The California association passed its findings on to the USGA. In 1978, the USGA contacted Knuth and asked him to be part of its eight-member Handicap Research Team. At the time, he was a naval lieutenant commander based in Norfolk, VA.
Among the findings reached by the Handicap Research Team were:
Two golf courses with the same USGA course rating can be as many as 12 strokes harder or easier for the average player.
The average male player carries a 17 handicap, the average female player, a 31 handicap.
Half of all male players have handicaps ranging from 14 to 20.
The bogey golfer – defined as having a handicap of 18 to 22 and the ability to hit a 200-yard tee shot but an inability to reach a hole of more than 370 yards in 2 strokes – averages 21 strokes over the course rating at the average golf course.
Armed with this information, the research team recruited 20 golfers – all with handicaps ranging from 17 to 20 – to play 10 courses in the Norfolk area, including Kingsmill, site of the Anheuser-Busch Classic. Data from their rounds resulted in a course-rating system for bogey golfers that included such factors about courses as topography, recoverability, rough, out-of-bounds, water hazards, trees, bunkers, the green's target area and surface and psychological factors.
The final test came in 1980, when the Handicap Research Team's recruits went to northern California to play round-robin matches on six courses – three of high Slope, including Olympic, site of this year's U.S. Open; and three of low Slope.
Slope had passed its final test. Pleased with his findings, the USGA hired Knuth full-time in 1981 and sent him out in the world to educate the masses about the benefits of Slope.
The Colorado Golf Association was the first to adopt the system in 1983. Then came the Golf Association of Philadelphia.
"When I first heard about it, I was a little cool because I didn't under- stand it," Sykes said. "But we saw them working with it in Colorado, and once I got to know a little more about it, I was very enthusiastic. I always felt that assigning the course rating with 99 percent of it based on yardage was wrong. There had to be something better, and Slope filled the bill."
The Golf Association of Philadelphia rated 89 courses in an area, reaching east to the shore, west to Reading, north to Allentown and Bethlehem, and south to Wilmington.
Nationwide, more associations came on board, and Knuth said that 79 of the nation's 81 golf associations are now using the Slope System. Ironically, the Northern California Golf Association which helped compile some of the original data, is one of the two associations not yet sold on l Slope, meaning such courses as Pebble Beach and Olympic have not been rated using the new system.
Knuth thinks that he can sell Slope to the rest of the world, and that it may be possible to make handicap systems consistent worldwide. As of now, he said, 25 countries, including Canada and much of South America and the Far East, use the USGA handicapping system.
"The USGA position is that we don't want to pressure anyone," he said. "We're not singling out any golf association or country. But this could be the first chance in history that there is a worldwide unification system and that's exciting. We believe it would promote more international competition."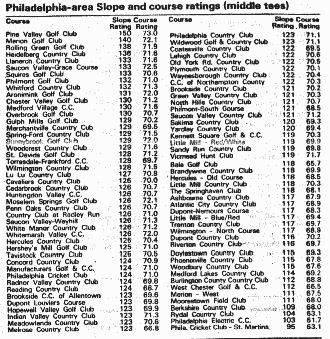 Of course, whenever there is change, hassles can't be far behind. Area golf professionals were hard pressed to educate their members about the Slope System, but things are getting better.
"Everybody was pretty unsure about it," said McKenzie of Waynesborough, which is rated Slope 122 from the middle tees and 127 from the back. "But people are finding out that it works. It takes into account that some places are easier than others. More people are realizing why the system was devised. People here like it very much."
"If you explain it to [players], they're very skeptical at first. The best way to tell them about it is mention Pine Valley, Merion and Overbrook and ask them if they can play places like that with their club handicap. No, they can't."
Kittleman of Merion (Slope 140 from the middle tees, 144 from the back for the East course) said it took a while to explain it to his members, but he also succeeded with the help of comparisons to other courses.
"For years, someone had a handicap of eight no matter where they played," he said. "If you get eight shots here, you shouldn't get eight at Bala (118 from middle, 119 from back). A pretty god player on a difficult course shouldn't get the same number of shots at an easier course."
"There's also the factor that if a player has a date to play at Merion, he is psyched out before he gets here. A player feels the rough is deep and the greens are fast and that lays on his mind."
Knuth said that Slope has received an "amazing" amount of support from low-handicap players all over the country.
"You wouldn't think that they'd be very much affected by Slope, but they are," he said. "They used to go to the easy golf courses and get killed by players with high handicaps because they got too many strokes. Now it's more equitable. The feedback is positive. The perception is that people want a fair advantage."
If Slope ratings and course ratings are taken into consideration, the five toughest courses in the Golf Association of Philadelphia are Pine Valley, Merion East, the Grace course of Saucon Valley near Bethlehem, Aronimink in Newtown Square and Rolling Green in Springfield, Delaware County.
Courses in the Golf Association of Philadelphia originally were rated and assessed their Slope figure in 1983. In 1984, the GAP, which has its own ratings teams, began a system that gives each area course will a new Slope rating every five years. The system takes into consideration any changes or more difficult obstacles, such as taller trees.
As with every formula, there is a margin for error. A committee will look at the findings of a ratings team and determine whether the figures are reasonable. A course also can ask for another rating if it feels its rating is high or low.
That was the case with Merion. Kittleman said the original Slope rating of Merion East, site of five U.S. Opens, was too high.
"That worked a hardship on our members because their handicaps would drop considerably on another course," he said. "But now it's been equalized somewhat. The criteria for rating courses are better, and more experienced people are doing the rating."