San Diego Country Club to Host 2017 U.S. Women's Amateur Championship
By USGA
September 10, 2013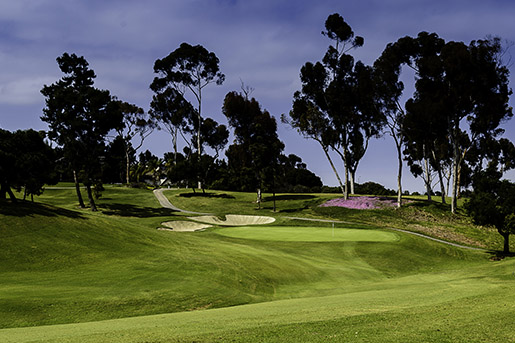 The par-3 sixth hole at San Diego Country Club, host of the 2017 U.S. Women's Amateur. (Courtesy San Diego C.C.)
FAR HILLS, N.J. – The United States Golf Association today announced San Diego Country Club, in Chula Vista, Calif., as the host site of the 2017 U.S. Women's Amateur Championship. The dates of the championship are Aug. 7-13 .
"The USGA is very happy to return to San Diego Country Club," said Thomas J. O'Toole Jr., USGA vice president and chairman of the Championship Committee. "Southern California has consistently provided a vibrant backdrop for our national championships, and we are confident that San Diego Country Club will again provide an outstanding test and gracious hospitality to the competitors."
This will be the 77th USGA championship conducted in the state of California and the third held at San Diego Country Club. In 1964, the club hosted the fourth and final U.S. Women's Open victory by legendary native San Diegan Mickey Wright, which she captured in an 18-hole playoff over Ruth Jessen. Jill McGill won the 1993 U.S. Women's Amateur Championship at the club, posting a 1-up victory over Sarah LeBrun Ingram in the final. McGill's victory is the most recent playing of the Women's Amateur in California, which has hosted the championship eight times.
"San Diego Country Club is very pleased to host another USGA event in the 120th year of our existence," said Dean Knuth, chairman of the club's 2017 U.S. Women's Amateur committee. "We have a rich history with the USGA, and we know our moguled fairways and our greens, renowned as among the best in Southern California, will provide the world's best amateur women golfers with an excellent test. Our members and volunteers promise to provide an exceptional experience for everyone."
San Diego Country Club was established in 1897 and opened at its current location on Sept. 3, 1921, with a course designed by William Watson (later remodeled by William P. Bell for additional length). The club hosted the PGA Tour's San Diego Open (now the Farmers Insurance Open) in 1952 and 1953, with Ted Kroll and Tommy Bolt, respectively, taking victories. In addition, the club has hosted numerous U.S. Open and U.S. Senior Open championship qualifiers.
The club also has a long history of supporting collegiate and amateur golf. San Diego C.C. has hosted two Southern California Golf Association Amateur Championships, most recently in 2013 when Beau Hossler won, as well as the 2002 and 2007 Pacific Coast Amateur Championships. The club serves as the home course for the men's golf teams at the University of San Diego and San Diego State University, which since 2011 have co-hosted a tournament at San Diego C.C.
This will be one of three USGA championships held in Southern California in 2017. The U.S. Amateur Championship will be conducted Aug. 14-20 at Riviera Country Club in Pacific Palisades, while the Walker Cup Match will be held at Los Angeles Country Club on Sept. 9-10.
The U.S. Women's Amateur Championship was first conducted in 1895 as one of the USGA's first three championships. It is open to female amateurs who have a USGA Handicap Index® not exceeding 5.4. Notable past champions include Glenna Collett Vare, Patty Berg, Babe Didrikson Zaharias, JoAnne Gunderson Carner, Carol Semple Thompson, Beth Daniel, Juli Inkster, Pat Hurst, Morgan Pressel and Lydia Ko. Rising University of Alabama sophomore Emma Talley won the 2013 U.S. Women's Amateur in August at the Country Club of Charleston (S.C.).
The 2014 U.S. Women's Amateur will be conducted Aug. 4-10 at Nassau Country Club in Glen Cove, N.Y., while the 2015 championship will be held Aug. 10-16 at Portland (Ore.) Golf Club. In 2016, the championship will be conducted Aug. 8-14 at Rolling Green Golf Club in Springfield, Pa.